Who doesn't love giant robots fighting each other in an epic battle of good verses evil?! I sure do and when Micheal Bay's Transformers came out in 2007 I was super excited for the live action movie. Sure, we get all those Michael Bay-isms, but most of the films were fun. Did they make sense? Probably not, but they were enjoyable. So where do I rank these bad boys?! Let's find out! 6. Revenge Of the Fallen Grade: 70 C
It's kind of hard saying this is the worst film and graded so low when it made almost a billion dollars in the box office, but here we are. It was inferior to the other films and just threw out characters like they were garbage. There were battles that were fun to watch though, that's the one thing I have no complaints about, the action is decent here, especially in the desert where it's pretty much the wild west as the decepticons are looking for Sam Witwicky. The battles, awesome. The story, not the greatest. Just seems like wasted characters as far as the Transformers in general, most especially Devastator who I wished had a bigger impact. Other than some tense moments at the end and some weird humor, it was an ok movie with a twisted plot that was simple yet confusing. MVP: I can't even think of anyone that was awesome in this, I'm literally drawing a blank. I'll just stick with, no one stood out as the best in this film. I will give them a two thumbs up for both a fun beginning and end battle wise. 5. The Last Knight Grade: 71 C
Debated putting this one last as it wasn't very good, in fact Michael Bays transformers make no sense story wise, it always seems that each movie doesn't care what happened in the last movie other than "bad guys lose, good guys win."
Again, they change the stories up in some way and create a world where the Transformers have been on Earth for a very long time and even helped King Arthur, even has Merlin one of the key characters to get the Autobots to help the humans in a time of war. The movie is visually pleasing, I can say that, it just makes no sense. The only thing this movie had going for it was the Optimus against Bumblee battle. The whole movie revolves around bringing Cybertron back by Merlins staff and Stonehenge. I guess. I'm not even sure any more. Anyway, the Dinobots are underused again, you would think Grimlock and company would of gotten a bigger part in these movies. Megatron joins the humans and negotiates to release a super team of Decepicons to help, yeah I don't get it. It's weird and pretty much doesn't even matter. Eh, I should of put this one last. MVP: Bumblebee? God damn is it hard to Pick a MVP in these movies. What the hell did he even do!? Damnit! I guess him taking on his mentor and leader in a battle that may have ended up with him killing him, God, that would of been some crazy shit right? Bumblebee having to destroy his best friend, leader, and mentor? Damn...they should of went that route. I believe this movie also had Bumblebee shown in World War 2 where he killed Nazis which is always fun too. 4. Age of Extinction Grade: 74 C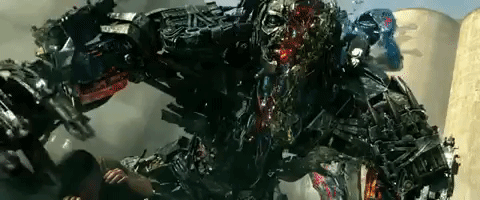 I enjoyed this probably a little more than I should of, but I feel this movie had a ton of potential but just fell on its face. The best part of this whole story was the conflict of humans and the Transformers, no matter which side. I loved that a secret American government group allied with a bounty hunter who was hunting Optimus Prime, who didn't care if he killed Autobots or Decepticons during the hunt. I loved the fact that the humans and Bounty hunter worked together to take down one of the Autobots. It was interesting as hell. This movie took one of my favorite characters and just underused them. I'm talking about Grimlock again. The biggest story they had going for it was ruined by the end. They also had some weird Tech for new transformers that just didn't make sense to me. MVP: Kelsey Grammers character was incredibly interesting. The whole being against aliens being on Earth and pushing them off no matter what the cost was pretty cool. 3. Transformers Grade: 83 B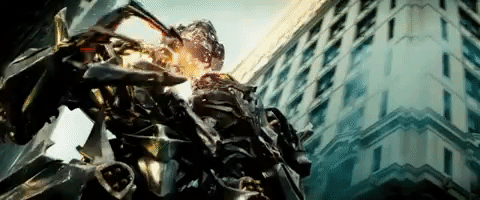 This movie started it all and it didn't disappoint. The fact that the we slowly get glimpses of transformers and our star player is Bumblebee made sense. The Decepticons trying desperately to find the All-spark and Megatron throughout the film set up the great Finale, and that music was amazing. The beginning of the movie when Blackout, disguised as a black Hawk helicopter, came into a military base and transformed for the first time was legit bad ass, then even more so where he decimated the base of humans was cold AF! This film has a lot of cool moments, some funny, some legit bad ass in the way of fighting. Sam Witwicky was amazing in this and he's the perfect person to follow through this journey of Transformers. MVP: Sam Witwicky....the humor and emotion he brought to this character made me enjoy these movies, just wish he was still part of this franchise. 2. Dark Side of the Moon Grade: 84
War....Battles between transformers and the military and then against each other is what I loved about this film. This is the type of story that would play out in my head while playing with Transformers when I was little. The Battle of Chicago was just fun! Even the strained relationship that continued between the humans and Autobots was great. Megatron coming out to the entire world was a nice move as well, although I'm not sure why he would let the world know, that would give them time to mobilize which wouldn't be good since the humans showed the capacity to destroy them. I probably watched this movie ten times just for the battles and music alone. The human aspect of it was ok at best and didn't do much for me, but it is what it is. MVP: Megatron, he pulled a fast one on the autobots with the betrayal of a Prime, he basically told the world he would take them over, and he set in motion a plan that used teleportation to bring reinforcements in even though all it did was get him killed. Jesus christ, he loses in every movie. 1. Bumblebee Grade: 90
This is the type of movie I wanted! It's not only a cute movie, that had decent characters, including Hailee Steinfeld who is a star, it had the best smoothest Transformers out of all the films. Travis Knight, the director, did a fantastic job in this soft reboot which I hope is actually a hard reboot. I would love a Travis Knight Transformers universe so we can move away from Michael Bays version.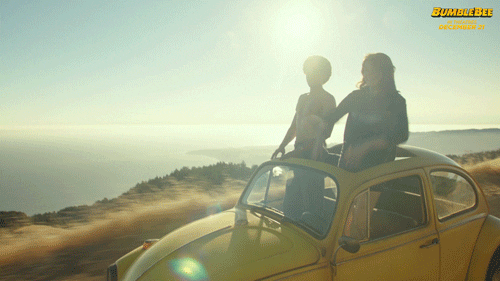 John Cenas character was a little over the top but it worked for this film. I'll be honest, I was really hoping for a more gritty take from the military in this movie, including a potential cross over reboot with a GI Joe team, but that may never happen.
In all Bumblebee was just a fun movie for all ages and the best Transformers movie so far. It was also amazing to see Blitzwing, Shatter, and Dropkick as the Decepticons villains. We don't need Megatron every time! We do see several big time villains in the beginning when the Autobots attempt to escape from Cybertron which reminded me of the Fall of Cybertron video game.
The relationship between Bumblebee and Charlie, the main character, was extremely cute, loved the chemistry between the two and hope the next installment pushes Charlie and Bee back together. MVP: Bumblebee, he stole the movie with heart moving moments, cuteness, and awesome battles. So that's that! Does my list make sense? What are your rankings? Comment your list below and let us know! #Transformers #MovieRankings #TransformerRankings #Bumblebee #Megatron #Autobots #Decepticons