In a world where Rodents, reptiles, and pizza delivery dudes face masked vigilantes who are just trying to make it in this world, I give to you, #TeenageMutantNinjaTurtles 2: Secret of the ooze.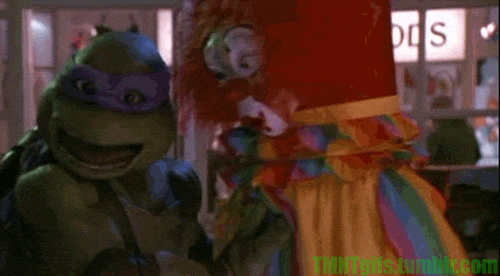 After these mutants murdered several teenagers on rooftops and in the sewers, they have toned down their murderous ways and attack with balloons, sausages, and yo-yo's.
They take over the home and enslave April O'Neill, who works but then comes home to cook and clean after these slob Turtles. Meanwhile, Shredder is back, after surviving an attempted murder by Casey Jones via garbage truck.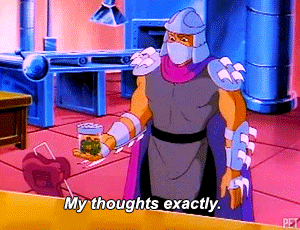 Shredder, a businessman, decides to buy mutagan from a scientist and sends his foot ninja, who are all studying to be doctors, to pick it up at TGRI. Those pesky turtles decided to try and steal it for themselves, caught red handed, the footclan had no alternative but to attack to stop these thieves.
After narrowly escaping with the ooze, Shredder uses it to create two mutants of his own, to help stop the rampaging turtles. Much to his dismay his people stole a baby snapping turtle and wolf who automatically assume Shredder is their mom. He obviously uses this to his advantage.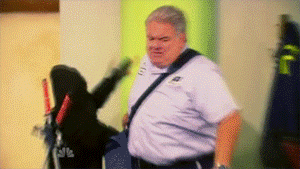 After Rapheal uses some teen to help invade Shredders privacy and it back fires, Raph is captured finally, after attacking Tatsu with insults. Granted the teen was a Surf Ninja, so I don't Blame Rapheals sense of it all, It was just the execution of his plan that sucked. The gif above is pretty much what happens in the junkyard.
Shredder then sets a trap to arrest these deranged mutants, again, these dangerous mutants attack and evade capture even when the big guns show up, but prove to be to insufficient to get the job done, Toka, the snapping turtle even gets his fat ass stuck in a manhole, proving turtles to be stupid.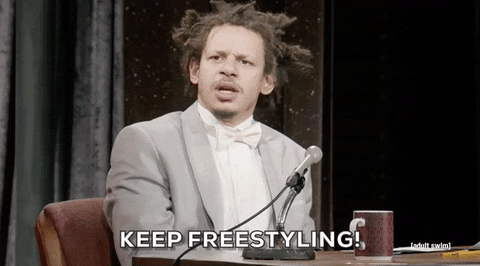 This sets up the finale where the turtles poison the new mutants then begin to dance to a new rap song, being so arrogant to kick teen ninjas in the face while Vanilla Ice sings. After deciding to squish Tatsu and most likely paralyzing him, they confront the warrior prince, and after using their magic guitar powers to knock him out of the building, they come to find that he turned into Big Daddy Cool Diesel with a helmet, and much like he did with WCW, he destroyed the dock that was overhead to crush his enemies, but only crushed himself.
It's a tragic tale.
It's a 6.6 out of 10 Pizzas 🍕 for me, with a side of Nostalgia and Pepperoni.
#UnhingedReviews #TMNT #NinjaRap #Shredder #NinjaTurtles #SecretOfTheOoze